Accumulatoren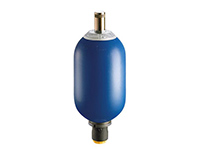 Blasenspeicher
series
for large volumes of 500 liters and up to 1000 bar
max pressure 470 bar at 120 °C / min -45 °C
Gas connection : 5/8" -18 UNF / 5/16" 32 UNF
Pressure connection depending on size:
Sandblasted and primed with RAL 5005
Painting on request
Special construction on request
EC (2014/68/EU-PED)
CU-TR - CoC (ex GOST)
ARH Algerino
API614
AS1210 Australian standard
Canadian registry
RINA-ABS-LLOYD'S
NR13
ASME VIII DIV I U STAMP
On demand :
Rupture disk CE PED / safety valves CE PED
special oil flange connection
special oil drains
special oil connection BSP / NPT
Serie A-51C-E design EN14359 97/23
DESIGN CE (2014/68/EU-PED)
(1-50)L (350/355/380)BAR @ T(-45/+120)°C
Serie A-51CEU / C4U / C6U-DESIGN ASME U-STAMP
(10-50)L (3000/10000)PSI @ T(-40/+93)°C
Serie A-51C-R DESIGN RINA
(1-50)L (340)BAR @ T(-45/+120)°C

For more information download the catalogue here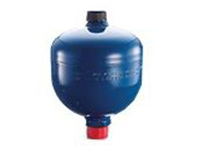 Diaphragm accumulator
series MBSP
Electron beam welded hydraulic accumulator
Large volume and power range
0.07 to 3.5 liters
Pressure range up to 350 bar (high bursting strength)
Gas connection : M28x1.5
Pressure connection depending on the size: 1/2" / 3/4"/ M33x1.5
Sandblasted and primed
Painting on request
Diaphragm material:
- Standard material NBR (-20/+80)°C
- Materials IIR
- Material FKM (-10/+150)°C
- Material ECO (-30/+110)°C
Low maintenance design
Long lifetime
Controlled energy release for hydraulic applications
Application specific design
Various membrane and housing materials available
refillable
pulsation dampening
Vibration and noise reduction during pressure surges
efficiency and life extension
Design: metal diaphragm clamping ring
Reliable, reproducible clamping force of the membrane
Controlled deformation for locking
Stable metal ring vs. plastic ring
Optimized diaphragm shape and material selection for a wide temperature range
Heavy duty poppet valve
Not vulcanized to the membrane
Allows rapid membrane movements
Complete liquid discharge through built-in valve

For more information download the catalogue here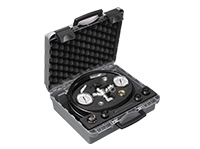 Accumulator accessories
Accumulator case / Universal tester
The VGUPKIT, universal accumulator tester and pressurizer is an indispensable instrument for the verification, pressurization and nitrogen bleeding of most of the hydraulic accumulator available on the market.
To use this unit, it's screwed on the inflation valve of the accumulator and connect a high pressure hose to nitrogen bottle.
Applications:
Accumulators tool inflation
Accumulators inflation after the replacement of the bladder
Accumulators pre-charge periodic check
Accumulators pre-charge check during the installation phase
Accumulators pre-charge variation
Available port sizes
M28x1,5 - 5/8" 18 UNG
5/8" 18UNF - 5/16 (8V1)
M28x1,5 - M16x2
M28x1,5 - 7/8" 14UNF
M28x1,5 - ¾"
Key 6mm
W21,8x1,814
W21,7x1,814
W24,32x1,814

For more information download the catalogue here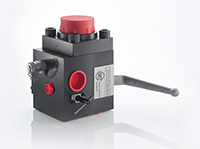 Accumulator accessories
SAFETY BLOCK ACCUMULATORS
We recommend using an accumulator safety block to shut off and relieve hydraulic accumulators or consumers. The block takes into account the relevant safety regulations and the operational safety regulation BetrSichV. Ready-made shut-off blocks simplify the connection of the consumer to the hydraulic system and offer the following various advantages:
Small installation space
Little piping effort
Reduced assembly time
Transition pieces available for different storage types
Additional valves e.g. controlled non-return valves, flow control valves.
For memory connections up to 2"
- C40 carbon steel / AISI420 ball / NBR seal
- Preparation for solenoid valve CETOP 3

For more information download the catalogue here